It is kind of funny.  My computer froze while I was typing, but when I got it back on, wordpress had auto saved it.  Once saved always saved I guess that settles it.
It pained me to hear of the death of Billy Graham.  No, I am not someone who will claim to have known him or ever met him.  Ever notice when someone dies suddenly everyone was their best friend.  No, that is not me.  But it hurts to hear of his death.  Then I asked myself, "Why?"  He was 99 years old.  He loved Jesus more than anyone. His life was so fruitful. I tried to think about quotes or stories that came from Billy Graham books or teaching, and other than a story about how to fix a dog fight by feeding one dog and starving the other to illustrate fasting, I had nothing.
So, what is it?  Sometimes I get really annoyed when someone like this goes on to be with the Lord because we deify them.  We do some strange things, like cutting and pasting some verses out of Hebrews 12 and declaring they are with us, watching over us.  Suddenly this very Godly person watching over us makes us sound like pagans.  No, Billy Graham gets to stand in front of Jesus and hear, "Well done good and faithful servant."  Heaven might need worship leaders, but evangelists are happily unemployed there.  If he was here with us, he would tell us not to talk to him and worship him, but lead us to follow Jesus.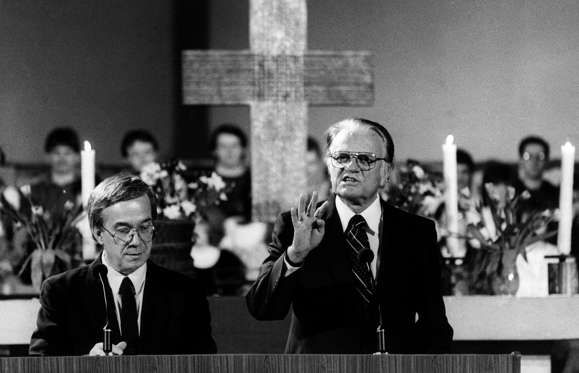 Photo credit – Newyorktimes.com
I guess that is it.  It was his whole life.  The man loved Jesus.  He was in the public eye for decades and refused to get political most of that time.  Yet, he advised presidents and met with world leaders and influencers.  He wanted Jesus to be the answer for any problem.  He wanted Jesus to solve the problems of the human heart.  He wanted Christ to show Himself large and squash these lesser political and social conversations.  Don't get me wrong.  He didn't avoid them.  He actually canceled a rally at LSU who tried to segregate the rally racially.  5 years later he got to have a rally there where everyone was welcomed.  He wasn't passive.  But, Jesus was always the point, the message.  He was the subject, the beginning, middle and end.  Jesus to Billy Graham was everything.
So, why does it pain me to hear of the loss of Billy Graham?  I was listening to the radio this morning and I heard on one station people calling in and talking about Billy Graham and what his ministry meant to them.  There are people calling in on stations all over the country talking about coming to faith through the Billy Graham Crusades.  There are stories of speeches and books, etc.
But, what hits me kind of odd is this thought.  Billy Graham wouldn't want us to deify him, but he showed us what God can do with someone who is willing and consistent.  He showed us there is a larger more important battle to fight.  He showed us that God can use us.  I am not talking about fame, or being known on earth.  I am talking about taking people with us to heaven.  I am not just talking about his words, but the consistency of his life.
The timing of Billy Graham's death is kind of odd, don't you think?  As a chaplain I have had many conversations lately where I feel as though Christian people are throwing there hands up.  I don't judge it.  I have been hurt by church and Christians and I have done it.  I have pulled away from church.  You expect more from God's people.  People are discouraged about school shootings.  People are mad about politics.  People are scared and feeling insecure.  The world seems hopeless.  People are giving up and for some, now that Billy Graham is dead too, that is just icing on the cake.
A verse someone who is really low might dwell on when we loose someone like Billy Graham is, well even Jesus said, "When the Son of Man returns will he find faith on the earth (Luke 18:8)?"  Jesus, please help us.  The Kingdom of God is like a mustard seed and it started like a tiny seed that fell on some good soil and eventually it rose to be the tallest tree in the forest (Matthew 13:32).  God is not done.  Billy Graham influenced many people, but our opportunity in our current lost and broken world is even greater.
Social media and the politics of our day keep us from the subject.  Hurt today because someone finished the race that was set before them.  Rejoice today that someone entered heaven who already had thousands there he helped to point the way to.  Be inspired today knowing that you are made to change lives.  You can point people to Jesus with your life.  Very few people may know your name, but you can live a life that influences people for eternity.  I heard on the radio of a woman named Pearl who traveled on her own dime everywhere Billy Graham preached and prayed on her face in a hotel room for the people hearing the message at the crusade.
Right now when things seem hopeless, God is calling you.  He isn't calling you to be like Billy Graham.  He is calling you to be like Christ.  He is calling you to be like Christ in your public and private life.  He is calling you to believe and to follow.   He is calling you to be different.  Jesus calls you to be excellent for His sake.
You will not see all the fruit of your labor on this side of heaven.  If you did it wouldn't be faith.  The call to have faith is not a one time thing.  I am not talking about your salvation.  But, every moment we have a choice.  Do I press forward and trust God in this situation, with this prayer?  Do I act like Jesus in my business, family or social life?
Consider the example of Billy Graham to ponder, what does Jesus want to do with my life?  How can I be available today?
Check out The Introduction to my book, "The New Testament Challenge . There are 260 Chapters in The New Testament. 1 Chapter a day 5 days a week 52 weeks a  year 5 x 52 = 260! Take the Challenge! Change the World!
Also follow these links for purchase.  Available in both paperback and electronic.